BATHROOM REMODEL CHECKLIST
Remodeling a bathroom is an excellent way to refresh your space and increase your home's value at the same time. Remodeling a bathroom can be as simple as applying a new coat of paint or buying a new sink and fixtures. Or you can go big – start with a fresh slate and give the bathroom an entirely new look. Whatever updates you're dreaming of, it will pay to plan ahead
On average, remodeling a bathroom costs between $5,000 and $10,000. The more major the project, the more it will cost. One way to control costs is to prepare well in advance
Set a list of priorities and expectations.
What is your big-picture goal?
When does the job need to be finished?
Set a budget.
How much do you want to do? New shower and more square footage? Or just a new sink and a coat of paint? Make these decisions now before you start remodeling. Don't forget the details, like the knobs on the new cabinets and the light switch covers.
Choose a color palette or design style.
Stay consistent with color and material choices, and choose options that are cohesive with the design in the rest of the house.
Source your materials and permits.
Talk to manufacturers. Look into alternative eco-friendly, low-VOC or moisture-resistant materials.
Consider upgrades such as a bathroom fan, electric heater or radiant-heated floors.
Try to purchase as much as possible before you begin.
Plan logistics.
Find out if you'll need to plumb the toilet or shower or if you can you use existing pipes.
Check shipping periods to make sure you can get all the materials in time.
Line up a contractor or, if you're doing the work yourself, clear your schedule.
Will the remodel require enough tear-out that you'll need to seal off other rooms from dust or noise?
Anticipate obstacles.
Will the subfloor need to be replaced?
Will the new tub fit through the door?
Can the existing wiring be used?
Will the inspection officer be available during the remodel process?
Create a timeline.
Make a list that follows a logical timeline: Don't repaint before caulking, and don't finish the tile floor before installing the shower.
Get creative.
Think outside the box for a unique look: shiplap walls, board and batten, beadboard or tiles.
Look for unique lights and furniture at thrift stores.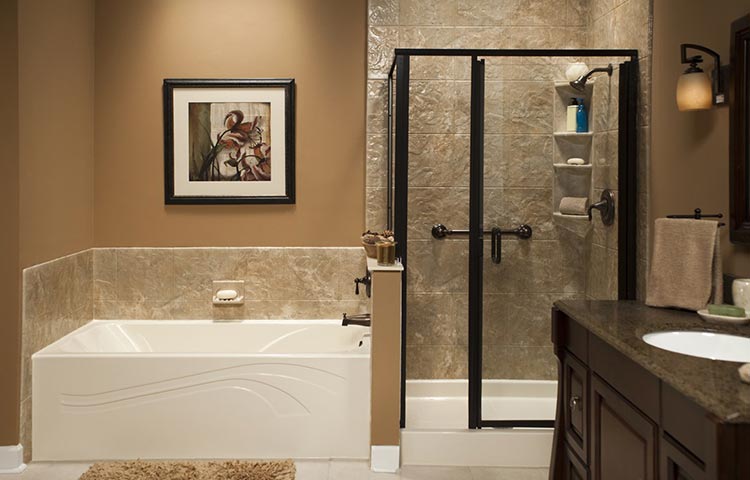 One Day Bath Remodel
If your bathroom is reminiscent of decades past or is simply in need of some serious TLC, Bath Planet can have your bathroom looking fresh and new in as little as a day, for just a fraction of the price of a traditional remodel! Our remodels are completely customized and retrofitted to your existing bathroom for easy installation and minimal disruption to your daily routine.
One Day Bathroom Remodel
At Bath Planet our experts use a superior process to evaluate your bathroom by taking measurements and designing a new bath, shower, or surround for you. Using your measurements, a brand new bath system is designed to create a brand new look and feel to match your bathroom vision. Not only do we replace bathtubs and showers, but we also convert bathtubs to showers and vice versa. We can also renovate your existing bath or shower to be more accessible for those with limited mobility.
Our one-day bathroom renovation options are nearly endless! With so many different color and design patterns to choose from, you shower or bath can be customized to suit any style. We also offer a variety of accessories like shelving, corner caddies, and hardware that can be custom fit to your new one-day bath replacement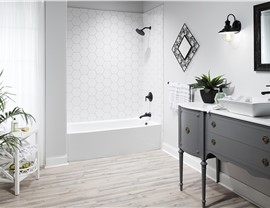 Bathroom Remodel Costs: Ways You Can Save
If the thought of remodeling your bathroom puts stars in your eyes, the price tag may quickly bring you back down to earth. Americans typically spent $5,500 per bathroom remodel in 2017, according to a U.S. Census survey of homeowners. A remodel is defined as a job that makes substantial changes to a room but stops short of building or tearing down walls. A major renovation, on the other hand, typically set home-improvers back $10,000, according to the same survey.  In yet another source, Remodeling magazine suggests a midrange bathroom remodel costs about $18,500, on average, according to its analysis of remodeling software estimates.
Breaking down the cost of your bathroom remodel
In a breakdown of bathroom remodeling costs, the biggest single expense is labor: Around 20% of the total price pays for professionals to tear out old elements and install new ones, according to the National Kitchen and Bath Association.
You could do the design and installation yourself, but you'd better be sure you have the know-how. Professionals have education, skills and experience that will help keep your project on track by avoiding mistakes and dealing with hidden problems that can emerge during a renovation.
How to plan your bathroom remodel project
Determine the goal: When remodeling a bathroom, set your sights on added comfort and functionality, not just resale value. The average bathroom remodel recoups just 64.8% of its cost in increased home value, according to Remodeling magazine's most recent Cost vs. Value report.
Create a budget: "Have a wish list and a must-have list," says Colin Shaw, owner of Shaw Remodeling in Niantic, Connecticut. First, price non-negotiable elements. Once your list is solid, get an estimate of installation costs from several potential contractors. Soon you'll have a rough idea of what the total project will cost. If there's still room in your budget, take a second look at wish list items to see what else can be included.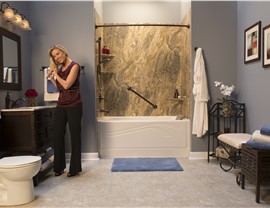 QUICK TIPS TO CHOOSE A BATHROOM RENOVATION CONTRACTOR
According to a survey, 83% of the Canadians every year opt for a bathroom renovation project. The fun fact is that, a good section of manipulated by those not-so-realistic DIY videos go frenzied and take up the task by themselves. However, people with minimum IQ will always do what is necessary, i.e. hiring bathroom repair contractors Toronto.
The complexity of the job entails expertise and no novice touch. So, if you are planning to remodel your bathroom this summer, without looking further choose one of the best bathroom repair contractors Toronto in town. Well, getting the superlative contractor is also a task. While choosing a service, you need to consider a few factors to level up the remodeling game.
Look for Credentials
This is one of the foolproof ways to settle for one of the top bathroom repair contractors Toronto in your locality. A good service will never be hesitant to produce the credentials to their clients. Therefore, if a contractor fails to provide the relevant certificates and license, you know which route to choose. Never compromise in terms of verifying the credibility of a contractor as it may to lead you towards having potential damage to your asset.
Experience Counts
Experience matters any day in every field and bathroom repairing is no exception to it. To reach the right contractor, pay heed to the years of experience. Not to mention, a contractor service can only sustain for a prolonged period if and only if they are able to satisfy their customers with their skill and proficiency. Take a look at their work portfolio to get a better idea of their experience.
Schedule an Appointment
This is indeed a smart step to consider. For instance, you can narrow down the list of the contractors and arrange meetings accordingly to decide for the best one. Generally, professional bathroom repair contractors Toronto never turn down such meetings. In such discussions, you must propose your estimated budget for bathroom remodeling work.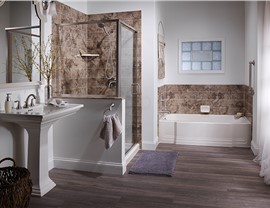 Tips for Hiring a Bathroom Remodeling Contractor
Hiring a bathroom remodeling contractor can save you loads of misery and time due to some of the difficult operations like electrical, tiling and plumbing that are involved. However, before you select the appropriate contractor, you need some checklist of your wants and needs. You need to hire someone you can get along with and trust to do your job well. Below are 3 tips for hiring remodeling contractors to help you make an informed decision
Do your homework
It is important that you have a clear plan of what you want for both your project and the contractor. For your renovations, you need to have a clear idea of how you want your bathroom to look like and to have a realistic budget of how much you are prepared to spend. As for the contractor, you want to focus on individuals who have prior experience with your type of project. You need to get recommendations from friends, family, or even a building inspector about bathroom contractors in your area.
Contractors are not necessarily designers
Some bathroom remodeling contractors are inclusive of everything that has to do with a bathroom renovation. This means that they will help you with every aspect of the remodel, from the initial design to the very last towel bar screwed into the wall. However, other bathroom remodeling contractors want you to come into the project with bathroom design plans ready for them to execute.
Supply your own materials and save money
Be aware that every item that the contractor buys will have his/her commission tacked onto it. However, most bathroom remodeling contractors are perfectly fine with you purchasing items on your own. These could be decorative towel bars, mirrors, toilets or light fixtures. Keep in mind though that the lowest price quotations may not always be your best pick.