Tips to Keep You From Hating Your Kitchen Remodel
Kitchen remodeling sits at the top of many homeowners' wish lists, and for good reason: If properly done, a renovation makes the kitchen more attractive, improves its efficiency, and raises the resale price of your home
Set a Budget
If you're planning to renovate your kitchen completely, be prepared to pay about 10% or 15% of your home's current value. That's no arbitrary percentage; it's a budget that ensures that the quality of your improvements stays in line with your home's worth. Although spending too little is a concern, it's equally important to avoid overspending. Be sure to allow leeway for surprises. Who knows what plumbing or wiring nightmares lurk in the walls behind those old cabinets?
Size Matters
Are the cooks in your household taller or shorter than average? Careful shopping and strategic design can make their lives much easier without making your kitchen overly specialized. For example, manufacturers recommend installing a hood 30 inches above the cooktop—in other words, right in the face of a six-foot-tall cook. Luckily, there's a simple solution: Most hoods work just fine if mounted slightly higher. The lesson is that no matter how lovely something looks on the drawing board, you must account for the lifestyle and physical characteristics of the people who will actually be using the kitchen.
Focus on Lighting
In the hardest-working room of your house, don't underestimate the benefits of living with neither shadows nor glare. Use a mix of fixtures to layer light of different types—ambient, task, accent, and mood
Indulge (Some of) Your Whims
Maybe you're right on top of the latest trends, or maybe you love bright colors. Remember, materials and colors that look fantastic in a sample-size swatch might very well appear over- or underwhelming in a larger dose. Resist the temptation of going over the top with busy tile patterns or purple appliances. Instead, integrate the design elements you love as accents, not centerpieces. Otherwise, you run the risk of alienating future buyers who don't happen to share your idiosyncratic style sense.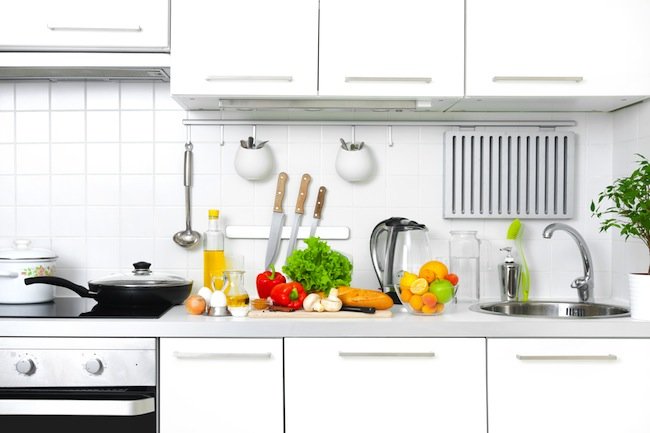 Common Kitchen Renovation Mistakes to Avoid
While a significant expense for most homeowners, renovating your kitchen is also an investment that can last you for years to come and may even increase the overall value of your home. Therefore, there are a few tips you'll want to keep in mind before you embark on your renovation journey—as well as a number of common mistakes you'll want to try and avoid. Doing so will help make your time, effort, and money well worth it.
For starters, plan your kitchen accordingly. By this we mean take some time to consider your family's needs and your lifestyle. This will help ensure everyone can get the most out of the space. Ask yourself how often you cook, what appliances you would like to dedicate extra time (and money) investing in, and how much storage you consider essential. Perhaps the kitchen is your family's main space for socializing and entertaining, and sometimes even doubles as an after-school homework zone. In this case, you may want to pay extra attention to your seating choices and counter space, or maybe dedicate certain areas to serve more than one purpose
Going It Alone
Even if you're the DIY type, make sure to consult a kitchen design expert before starting your project. A professional will be able to help fine-tune your remodel plan, offer tips and advice, and maybe even recommend some ideas you hadn't already considered.
Overlooking Storage Details
Don't skip over the seemingly small add-ons and storage features, like additional drawer dividers, or cabinet expansions like pantry pullouts and lazy Susans. These details will not only increase your kitchen's storage efficiency, but will also save you money as they are much more costly to add on down the road
Forgetting Your Workflow
When planning you're remodeling, remember your kitchen's busiest areas: the sink, stove, and refrigerator. Make sure these areas and appliances are in an efficient location that is relevant to one another. Many designers refer to this as the kitchen "work triangle".
Kitchen Remodeling Guide
Hey, have you heard the one about the 36-inch pro-style range that ripped the molding off the back door on its way into the house? Or the poured-on-site concrete countertop that cracked three months after installation? Or maybe it was the contractor who was paid in advance, promptly skipped town, and was never heard from again
Yep, we've heard those stories, too. Let's face it, in a nation where home renovation long ago surpassed baseball as the Great American Pastime, kitchen nightmares are a dime a dozen — and anyone who's ever traded Formica countertops and a Harvest Gold fridge for soapstone and a stainless steel side-by-side knows exactly what we're talking about.
Finding (and Holding Onto) the Best Pros
Kitchen remodeling is at the top of homeowners' wish lists. It is also, according to attorneys general across the country, a leading source of consumer complaints. Recommendations from friends are the best place to start your search for a qualified contractor. But before you make a decision, keep these caveats in mind
They're only as good as their last job. "General contractors often win jobs based on their good reputations," explains architect Dennis Wedlick, author of Good House Hunting: 20 Steps to Your Dream Home. "But circumstances can change. When the contractor switches subcontractors or laborers, quality can be affected." Ask your top three candidates to supply references, and follow up with the most recent ones
What you see is what you get. In addition to completed renovations, try to visit a job in progress. You can learn a lot about a contractor's commitment to quality and safety by seeing for yourself how clean the site is and how carefully the drywall is hung and taped
Kitchen Remodeling Guide: Tips & Advice
Hiring a Kitchen Remodeling Contractor
Redesigning and renovation of kitchens and dining rooms are the most popular issues among the homeowners. Finding the right contractor is one of the trickiest things for dummies. Ask your experienced friends and neighbors about their successes and kitchen remodeling nightmares. Browse through the forums and web reviews. Here are the things you should bear in mind while seeking for a professional
These are the three R's of successful communication with a contractor. Offer the workers some soft drinks or coffee for refreshment. Don't be on the way in the process of remodeling, especially in the kitchen and make your children and pets do the same to be responsible for calm renovation process. Be respectful and don't talk politics and family relationships issues. Following these three simple rules will make your mutual communication flowing in the process of kitchen remodeling
If You Do Kitchen Remodeling Yourself
The DIY option is never prohibited and you can easily deal with kitchen remodeling on your own if you have a bit of experience and certain skills. This part of the guide is devoted to handy homeowners willing to do the renovation with their own hands. The first thing you need to remember is that all materials you need should be preordered and delivered on time before you start the demolition. Otherwise, you'll have to cope with the kitchen under construction for weeks or even months. Do you have the materials ready? OK, let's pass on to the first step you can beat yourself and save money on kitchen remodeling.
Speaking of the Cabinets…
Basic stock cabinets are perfect for fast kitchen remodeling. They are cheap, versatile and easily installed. They're almost always in stock and generally delivered at once. Thanks to their simple look, their average cost is low. The only disadvantage is that your choice of designs will be very limited. If you're a bit more sophisticated homeowner, you can try semi-custom kitchen cabinets presented in a wider variety of styles. That's a pricier option, but you'll have a chance to add fancy elements to your kitchen remodeling overall design: glass doors, moldings, and side panels. Besides, you'll get a variety of coloring options. Such cabinets are generally preordered.
Materials
If you're limited on budget, consider the right pick of material. There are several options available: Laminate. That's the cheapest option. Budget countertops are also manufactured from the laminate. That's a neutral naturally friendly idea. It is released in flat panels and cannot be reshaped. However, if you're devoted to simplicity, these sleek minimalistic laminate panels will look contemporary and neat. Vinyl. Produced from the same material as laminate. It tightly wraps the cabinet doors providing you with more design options. You get attractive kitchen cabinets with simple maintenance for a moderate price.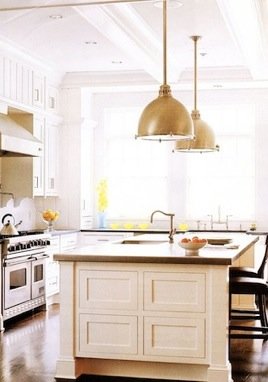 What I wish I'd known before my first kitchen renovation
After years of dreaming about it, I finally renovated my kitchen last spring. Since it was my first renovation project, I put my journalist cap on, did extensive research, and asked everyone I could think of about their kitchen renovation experiences. While I learned some lessons the hard way, in the end, I got exactly the kitchen I wanted—one that includes a dishwasher-garbage-sink work triangle (life altering!), a giant island, and a heated tile floor (I cry with joy every morning when I walk on it).
Mixing and matching pricey items with less expensive ones, as I did, should be part of any renovation budget strategy. For example, I went super-basic on the refrigerator and dishwasher so I could go big with a six-burner, restaurant-quality range, and I opted for manufactured quartz over natural marble so I could upgrade to modern matte black cabinets
Get professional design help.
A kitchen designer will know tricks you won't, but ask about how they charge: Do they bill for the design plus a markup on everything you buy, and can you order things on your own to save money? (Ask your contractor the same questions.) Also, check for design help in unlikely places: After three missteps on the design front, I discovered that my local building supply store, Riverhead Building Supply in East Hampton, New York, had a kitchen design center, and their design was free and amazing (thank you again, Cori Schramm!). I ordered mid-priced, semi-custom cabinets—and my countertops—there, and I was able to buy everything else (often on sale) on my own at other stores.
Accept that living without a kitchen will be highly unpleasant.
Each morning, as I squatted at the bottom of my living room stairs to brew and pour coffee, I cursed not having a kitchen. But an advance demolition of the old kitchen is critical because it allows for the most precise measurements for the new one. "You're building cabinets for the space you have," says California-based designer Tim Clarke. "You want to maximize every inch, learn where hidden pipes might be so that you can remove, and find unforeseen problems early while they can be addressed."
Choose your appliances and sink early.
Appliances have big implications on layout. When planning, don't just measure their width: Check the depth and leave clearance for circulation around door openings, including the side of the fridge, which often needs to be up to three inches to open interior drawers fully. Also, don't skimp on ventilation: People forget the range needs a vent, or they underestimate the strength it needs (a heavy-duty range requires a heavy-duty hood!). Shop for your sink early too, as it's just as important as your appliances. My huge undermount Franke 60-40 split stainless steel required me to move the dishwasher from its original location—an important early-stage decision. Find an appliance store that will let you buy early but will hold them until you're ready to install, because appliances go in last.