Home packing services
Packing is a crucial part of any move. Get it wrong and it can be costly. Our experienced, fully trained staff can take care of some or all of the packing for your move. Alternatively you may choose to pack for your self (see the bottom of this page for our Packing advice sheet)
Should you opt for the Full Packing Service we will typically send a team of packers to your home prior to your move and they will pack all belongings and prepare all items for your move. Our staff have access to quality packing materials and are trained, experienced professionals. Having our staff carry out the packing also gives you a superior insurance cover.
Antique or highly polished furniture often requires Export Wrapping for extra protection. Pictures or extra delicate items may also require crating. Our own carpenters tailor make a timber case for the item to ensure it remains in a stable, safe position during transit
You can also choose a Part Packing Service. In this instance our professional packers will pack delicate items and you will be charged per box packed by our staff. Professionally packed items benefit from superior insurance cover.
Preparing for your move
The boxes are delivered flat with sufficient tape. The boxes may have been used previously. We like to use the boxes as many times as possible to enable us to keep prices down, and would ask you to keep them clean and dry until we are able to collect them. Unless stated, they remain our property and a charge of £2.00 (plus VAT) per box will be made for boxes retained or returned unusable.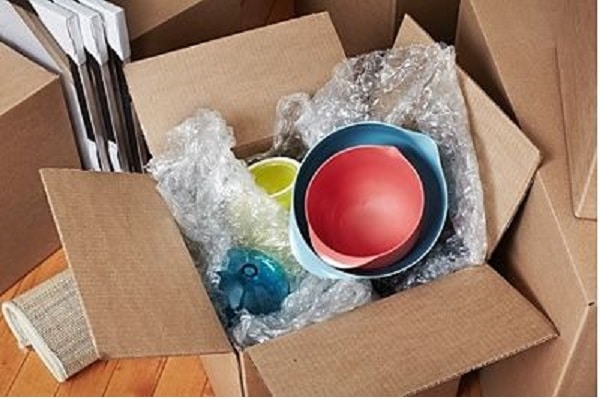 PROFESSIONAL PACKING SERVICES
Flexible Packing Services
Since 1919, over 50,000 people and their families have asked to help them move every year, which means trusting us their time, money and precious belongings.
We don't take this effort lightly and do everything we can to make your transition as smooth as possible. Expert packing and unpacking is second nature to us, and we know that a good packing strategy is key to a positive home moving experience. We provide three flexible options to help you have the packing and moving experience that will work best for you and your budget.
Full-Service Packing Services: We'll Take the Lead
With professional packers, you can get the assistance you need to get your move prepped and ready to go, without any investing your own time or sweat equity. We use only the best materials and techniques and employ background-checked, professional packers who are rigorously trained in our packing techniques before being charged with packing your home. This means they will show up on packing day with all of the boxes, bubble wrap, tape, protections and blankets that your items need. We move people every day of the year, so the careful handling of delicate or sentimental items is of the utmost importance to us. If you don't have the time or means to pack your home yourself, the full-service option takes a lot of stress off you while we handle it all.
Partial Packing: A Team Effort
Packing takes a little more than just putting items in boxes— there's a science to it. If you're uncomfortable handling fragile, valuable, large or awkward items, we can take those off your hands and give them the care they need, while still leaving you the flexibility to pack the rest yourself. With partial packing services, we'll still personally blanket wrap furniture, appliances or other items that require it before we load them onto our trucks
DIY Packing: The Budget-Friendly Option
If you're on a tight moving budget, or simply prefer to handle packing yourself, you can absolutely do your own packing. Your move coordinator can give you packing tips to help you get started, and then on moving day the furniture and heavy items will be carefully protected by us alongside the items you packed yourself.
HOW EARLY SHOULD I PACK FOR A MOVE?
Have you just closed on your dream house or been approved for the perfect apartment? You probably feel like a huge weight has lifted off your shoulders. While finding a place to live lets you cross a big item off your to-do list, you now have a daunting task ahead of you: pack up your entire house in cardboard boxes just in time for moving day.
There's no doubt that packing is the single most time-consuming aspect of moving. How early should you start packing for a move? The short answer: start as soon as the move is confirmed. To help you stay on track, follow this packing calendar as moving day approaches.
6 to 8 Weeks Before the Move
Start cleaning out the basement, attic, garage, and closets. Decide what to keep and pack up whatever you won't need before moving day. Then, make separate piles to discard, donate, or sell.
Research the moving companies you're interested in hiring. Read testimonials, compare rates, and ask for moving quotes. Request proof of insurance from every company you consider. Remember, hiring an uninsured mover could leave you responsible for property damage or personal injury claims.
4 to 6 Weeks Before the Move
Arrange a moving sale. By completing this step far enough in advance, you allow time to donate or discard whatever items don't sell.
Select a moving company and confirm your moving date.
Order packing supplies. Hopefully, your moving sale helped you downsize so can order fewer boxes and make moving day easier.
1 Month Before the Move
As you begin the actual packing process, adopt a labeling system to keep your belongings organized. Consider taking pictures of the contents of each box to help you find what you're looking for later. You can also download a packing app like Move Planner or Sortly to help you inventory your belongings.
Begin packing decorations that serve no practical purpose and items you seldom use, such as China, holiday décor, and anything in your storage room.
Contact charities and arrange to have items picked up that didn't sell during your moving sale.
Packing Services
moving and packing company. Our packing services include unpacking and disposal. They are available for both residential and commercial moves. Moving your home or moving a business is labor intensive both mentally and physically. We are committed to reducing the labor burden on you during the moving process. To help you relax we offer full packing and moving services. We pack and move nearly anything, including your prized possessions, wine vaults, pianos, chandeliers, flat-screen TVs, art and antiques. No move is too big or too small for us.
Professionally Trained Packers
We have professionally trained packers and movers to get your job done right. Our company fully licensed and insured company and all of our Connecticut movers and packers follow the established industry best practices. These include the safest and most efficient packing methods so that you have a great moving experience.
Movers To Pack my Home?
Reduces the most stressful part of moving, the packing process.
Our professional movers pack for you.
It frees up your time to do more important tasks.
Using trained professional packers minimizes move damage.
Charge an hourly rate for packing services.
This is the fastest option to move out of a home or place of business.
Your home is fully prepared for loading day, resulting in a more organized and efficient move.
Packing For Your Move
We know packing for a long-distance move is often challenging. That's why our professional packers are trained to pack your belongings safely and securely to avoid damage. We offer packing supplies and moving boxes at a cost-effective price.
Packing and Unpacking Services
Our packing services allow you to pack and move as much, or as little, as you desire. We offer partial packing service, which is like an extra set of hands to help you to pack up your delicate items and other possessions and to help you to get your packing done fast. Additionally, we offer full packing services, where we will pack up your entire house. This service includes packing dressers, closets, basements, attics and more.
Packing & Unpacking Services
Expert Packers
Time and time again our customers rely on us to pack their things as part of the move. Our expert team has helped many people with packing effectively for local and long distance moving.
Who has time for packing?
On the day of the move, if you feel like you're running out of time – don't worry, we'll finish packing for you. We have all the right supplies on the truck. This saves a lot of stress of having to pack before you move. When we come to move you, we will wrap and protect your furniture, artwork, lamps, TV's electronics – in addition we can take care the rest of your belongings
movers are so thorough that you'll need to tell them what NOT to pack – by default, everything would be wrapped and packed to perfection
If your moving day is approaching and you see that you are out of time, don't worry – we'll pack what you don't have time to pack
if you're limited in time and willing to do other things like hire professional movers and packers – we can guarantee that nothing will be lost or broken because it will be professionally labeled and packed.
team help you prepare your belongings before you move!
In this day and age, every help you need is a simple phone call away. And if you are moving, you already know you will be needing help galore. Once you choose your reliable relocation professionals, even though you might think otherwise, the job is nowhere near done. If you feel like doing the bare minimum for your relocation, then you need to take the numerous moving services movers offer into consideration. One of the most common things people need help with is packing. If you are wondering what makes packing services Brooklyn so useful, all you have to do is ask yourself: `Do I feel like losing precious days of my life on something other people can do for me?`
We are efficient
There is nothing worse than hiring movers, paying for their services, and having them drag on your relocation for days, sometimes even weeks. If you hire our local or long distance movers and opt for our packing services, you can rest assured you will get only the most efficient individuals. Every person that comes to your house to do the packing will be highly trained, experienced and have all the tools necessary for undertaking this task. Moreover