How to Choose the Right Hardwood Flooring for You – 5 Tips
In addition to bringing warmth and beauty into a room, hardwood floors are also a great way to increase the value of your home. To choose the right material you'll need to consider a few things ahead of time, such as how the room is typically used along with your family's lifestyle. Also think about your priorities and whether you prefer ease of maintenance over aesthetics.
Taking a few moments to contemplate these considerations and prioritizing what's really important to you will help you narrow down your focus to a short list of good candidates.
Floors take up a lot of visible space and it's only natural to want them to look great. Just don't forget the practical aspects when making your choice. The right blend of fashion and prudence should result in the right product for your home.
Don't be afraid to think a bit "unconventionally" either — in other words, it's easy to default to a wood floor for example, because wood is a great surface and has been around for centuries. But there are advantages to other materials like laminate too. Take your time, think about how you live and match a floor that'll meet your criteria for performance and visual appeal.
Construction
Hardwood floors can be installed on any level of your home and are available in multiple constructions to allow for installation flexibility over different subfloors and to mitigate moisture.
It's important to take moisture into consideration when you're installing hardwood floors since changes in moisture can create issues such as warping and gapping. To mitigate the effects of moisture, keep moisture levels within manufacturer recommendations and choose the right construction of hardwood flooring and installation materials. For an added layer of protection against moisture damage, install a moisture barrier.
There are three primary subfloors over which you can install:
Basement or concrete below ground level
Concrete at ground level
Plywood subfloor at or above ground level
There are four constructions of hardwood floors to address each primary type of subfloor.
3/4-inch Solid
5/16-inch Solid
Engineered
Locking
Discuss with your flooring provider the proper contruction for your application.
Style Considerations
Type
Finding the right type of wood is just a matter of personal taste and budget. There are domestic types like oak, maple, and cherry as well as exotic types like bamboo, brazilian cherry, and cork. Each type has a distinct grain pattern. For example, oak has a very distinguished grain whereas maple is very subtle. Exotics are very popular because of their distinct grain patterns and color.
Color
Most domestic types of wood come in a variety of colors. Most exotics, on the other hand, are not stained because their natural color is distinctive. Many exotic types are photosensitive and need exposure to sunlight to achieve their desired rich color.
Width
Widths can easily change the look of a floor since the wider the plank, the fewer the seams that can be seen in the floor. Wider widths also showcase the natural beauty of the wood, especially hickory and tigerwood.
Texture
There are many types of texture, including smooth, hand-scraped, distressed, and wirebrushed.
Additional Tip – You can buy prefinished hardwood floors that are already stained and finished with a coating that is stronger than most site-applied finishes.
Hardness
Different types have different hardness ratings. The higher the number the harder the wood. Hardwood floors are a natural product and are susceptible to dents (not covered under manufacturer warranties unless specifically stated). If you expect your floors will take a lot of abuse, consider a type at least as hard as red oak.
Defects
Make sure you know the defect rate of the wood you're buying. If the rate is over 50%, you'll need to buy almost twice as much than a wood that's rated 95% defect-free. Wood with high defect rates can also create issues with installation.
Grade
The wood's appearance determines its grade. All grades can be equally defect free, but each grade offers a distinct look. Clear and select grades are the cleanest looks with minimal knots and color variations. Millwood and cabin grades will allow all the characteristics of the species to show, such as knots, streaks, and color variations.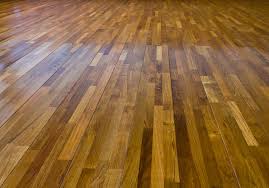 High Quality Solid & Engineered Hardwood Flooring
WHY YOU'LL LOVE IT:
Durability
Engineered flooring is constructed by joining layers of high-density fiberboard sandwiched between a solid wood top layer and a hardwood backing, giving it a uniform thickness and the advantage over hardwood when it comes to overall toughness.
Moisture Resistance
Because of its unique construction, engineered wood floors create a solid structure that does not respond to fluctuations in temperature or humidity, making them ideal for basements, bathrooms, and kitchens.
Maintenance
Many people prefer the aged look of a hardwood floor, though over time the surface becomes dull, scratched, and water stained. Solid wood floors can be sanded and refinished multiple times, while engineered flooring may only need it once or twice in its lifetime.
Environmentally Friendly
Solid hardwood floors are milled out of a thick piece of lumber, putting a burden on our natural resources. Due to its layered construction, engineered flooring takes only ¼ the timber required to make the same number of floorboards.
Cost
If you're on a budget, when it comes to installation, labor, and materials costs, again, engineered wood flooring will keep more money in your wallet.
Clean up
Use an angled broom or a microfiber mop head to collect pet hair and dust. Clean solid hardwood floors with hardwood-specific products. Use a mop occasionally for a deep clean, but avoid excessive moisture to ensure your solid hardwood doesn't warp.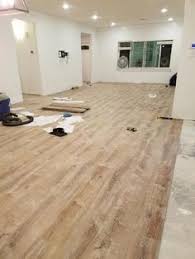 When To Choose Engineered Hardwood Floors
Wood floors add a touch of character to any home. Solid or engineered wood floors bring value and warmth into the interior of your home, and once installed, they can be very difficult to tell apart. In fact, even trained eyes have trouble distinguishing between a solid or engineered hardwood floor. Just because they look the same doesn't mean they act the same, but most homeowners are confused when it comes to what to install in their own home. Luckily, it's not so complicated. Engineered hardwood planks behave a bit differently than solid hardwood planks. They are also easier to install and generally less expensive than their solid counterpart.
Originally, engineered hardwood was developed to use in homes that were built on concrete slabs, but the technology has exponentially increased over the past 20 years to allow engineered planks to be used just about everywhere indoors.
Increased Stability of Engineered Hardwood
While not waterproof by any means, engineered hardwood was designed to withstand higher levels of moisture than solid wood planks. This makes them a great choice for homeowners who need wood floors over concrete, which has higher levels of moisture than most floors, or in a dry basement. Engineered hardwood also stands up better to heat than solid hardwood does. In extreme heat conditions, like being next to a furnace, solid hardwood can warp and buckle, but engineered hardwood will better keep its shape.
Increased heat and moisture resistance is due to the design of engineered hardwood. The substrate or under layer of the floor is made up of layered plywood , about 1-2 centimeters thick, stacked up in a criss-cross pattern to give the plank greater stability. On top of the layers lies a thin layer or veneer of the desired wood (oak, maple, walnut, etc…). If thick enough, this veneer can be refinished multiple times. While thicker veneers come with heftier price tags, they are worth the investment for homeowners looking for a lifelong flooring solution.
Importance Of Layer Thickness
When shopping for engineered hardwood, the layer thickness is just as important as how the top veneer looks. The different thicknesses exist so that engineered hardwood can be used without awkward transitions between rooms and flooring types, the most common being between kitchen or bathroom tiled floors and wooden flooring.
While developed for use over concrete slabs, thicker planks of engineered hardwood can be nailed down over a wood subfloor in the same way you would install a solid hardwood floor. Thinner layers are best when glued down, in the same way you would install laminate or vinyl wood floor. It's a fairly straightforward DIY project for the motivated person with a lot of time.
The thinnest of all engineered hardwood layers incorporate an advanced tongue-and-groove system that allows for easiest installation. These floors are usually called floating floors and can be installed directly over a cork or foam underlayment, or even over an older and worn floor (as long as it's flat).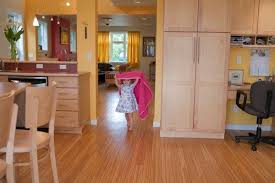 Layers of Engineered Wood Flooring
The moisture resistance of engineered hardwood comes from the layered design. This flooring will be more or less resistant to moisture depending on the composition of those layers.
Wear/Veneer Layer:
Here's where you find the veneer of genuine wood that gives your flooring its beautiful, unique look. The wood veneer can be almost any wood species you want.
The manufacturer will determine in their instructions if this layer is thick enough to refinish or not. Always check the manufacturer's instructions before sanding or refinishing engineered wood.
Core Layer:
This is the powerhouse of the plank. The artificial core increases the durability of your flooring compared to solid wood. Plywood and MDF cores offer some moisture resistance, especially if mixed with wax and other water-repellent materials. The layers of the plywood are oriented to create a lattice structure, which provides durability and stability.
Backing Layer:
This is the foundation of your floor. Before now, the backing layer was typically made of plywood, but new luxury engineered hardwood offers a premium pre-attached underlayment.
A pre-attached underlayment saves you some time and money on installation. Who doesn't love that? Made of cork or foam, this underlayment will soften sounds and smooth out less-than-perfect subflooring. Please note: for any engineered hardwood product, you need to purchase a moisture barrier to install over the subfloor. This barrier will protect your flooring from any moisture that might seep up from below.
What Are the Advantages of Engineered Hardwood?
More affordable than solid wood: You get the high-quality visuals of real wood without that big price tag, and nobody will be able to tell the difference. Score!
Every plank is unique: Since this is a real wood veneer, you'll never find a repeating pattern or an unconvincing texture.
Moisture resistance: Thanks to the materials in the core of your flooring, your engineered wood could be moisture resistant.
Install it anywhere: High moisture resistance means you can install it in bathrooms, kitchens, laundry rooms, and even basements! No grade level of your home is off-limits.
What Are the Disadvantages of Engineered Hardwood?
Not solid hardwood: This is important to some people. No matter how great it looks, it's not solid hardwood.
Difficult to DIY: While some engineered hardwood offers a simple click-lock design, other styles might need to be nailed or glued down. That will take some more time and effort.
Might not be able to refinish: Depending on what the manufacturer says, it might not be possible to refinish your engineered hardwood. While this cuts back on maintenance, you have less flexibility when it comes to redesigning.