How to Get Rid of Ants When You're in a Hurry
Block Up the Entrances
One of the first things that you should try if ants are marching in is blocking up all of the potential entrances with tape, window stripping, paint, or anything else that will cover it up. Sometimes you can figure this out by just watching where the pests go after they get food from your house
Create a Homemade Trap for Killing Ants
Another potential quick way for getting rid of a small ant infestation is by using a trap with household ingredients. Ants have very simple digestive systems, so there are some things that are no problem for humans but highly toxic to ants. One of these things is sodium bicarbonate, also known as baking soda.
Clean Up Scent Trails
If you see a line of ants going to and from your kitchen, they are most likely following a scent trail. Chemical trails are how ants alert other ants from their colony about a source of food. When a scout ant finds some source of food within your house, it produces a scent as it moves the food back and forth from its home. The scent remains on the ground, creating a path for other ants to follow.
Try Peppermint
If you've tried to block up every possible entrance to your house, tried traps and don't see any scent trails, another option is to spray peppermint in any areas that you think are a problem. Peppermint is actually a neurotoxin to ants, and it is highly deadly to them. You can buy essence of peppermint at a store quickly, and then you can either use an eyedropper to drop a small amount for spot treatments, or you can dilute it in a water spray bottle in order to spray on ants to kill and deter them from going where you don't want them to go.
Get a Professional to Help
While do-it-yourself treatments can be helpful in a pinch – the best way to deal with an ant infestation is by working with a professional team who can ensure that your pest problem is completely under control and keep them away.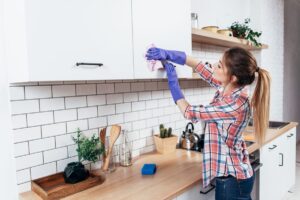 How to Get Rid of Ants
You know the drill: stop those first few ants from marching into your home or apartment and you might just keep them all out for good. Let the first couple ants go, though, and they're likely to report back to their friends and show them the way inside. So, how do you get rid of ants before they take over? Just like getting rid of mice, getting rid of ants isn't fun, but it's completely doable. Here are a few natural remedies to cure your apartment of ants.
Keep Things Clean
The best way to get ahead of those pesky ants is to keep everything clean and tidy. Consider getting air-tight, sealable storage containers for gains, cereals, and other dry foods. This way, when you aren't using them, they're sealed up and out of sight (and reach) from ants. Clean up spills quickly so nothing will attract ants to your floors or countertops. Sticky things like honey, syrup, jam, and sugar-based foods are especially attractive to ants, so make sure you're cleaning up your mess after every spill or cooking session.
Diatomaceous Earth
This naturally-occurring sedimentary rock is best used outdoors. Place a line of Diatomaceous Earth (DE) on a horizontal surface, like a cement sidewalk or patio flooring. As an ant tries to cross the DE line, the powder will attach to them and kill them (we'll spare you the details on how it's done, though). Just rest assured that the DE line will stop the ants in their tracks and inhibit them from marching into your home.
Talcum Powder
In a similar way, talcum, or baby powder, can also be used to get rid of ants. Find the entry points the ants have been using to get into your house, sprinkle a line of talcum powder down to create a firewall, and watch it do its work. Since ants breathe through something called spiracles on the sides of their bodies, the attached baby powder will clog their airways, killing them quickly.
Water and White Vinegar
If you're a little more patient or don't mind trying a few times to get rid of the ants, try filling a spray bottle with 50% water and 50% white vinegar. Spray the ants as you see them, and try to find the ant hill, too. The combination generally takes a few times to kill the ants, but it works. Just be patient; you might have to do a few rounds of spraying before seeing results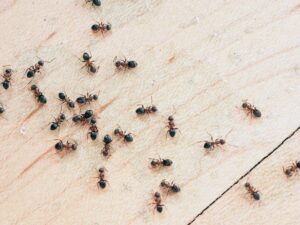 A Guide to House-Invading Ants and Their Control
Description
The ants that we see day to day are adult ants. Immature ants or "brood" are usually a whitish color and somewhat resemble fly maggots. They are found inside the nest where they are tended by adult workers. Adult ants do not grow. Some ant species have may have individuals of different sizes. So, if you see "small" ants, they do not "grow up" into larger-sized ones.
Ants, as do all insects, have three body divisions: head, thorax, and abdomen. The thorax (middle section) is the part where the legs and wings (if present) are attached. An ant's thorax and abdomen are joined by one or two segments called nodes, which form the petiole or pedicel. This petiole is one of the important features used to identify different ant species. Seeing winged ants inside your home often means that you have an indoor nest and it may cause alarm because winged ants are often mistaken for winged termites.
Here are some features that can be used to distinguish between the two.
Ants have a constricted or "pinched" waist; termites lack this constriction
The forewing of ants is larger than the hindwing; termites have four wings of equal size
Ants have bent or "elbowed" antennae; termites have straight, beadlike antennae
Life History and Habits
Ants are social insects – they live in colonies that contain three castes or groups: workers, queens, and males. Most of the ants you find in a colony are the workers, which are sterile females. They are responsible for gathering food, feeding the brood and queen, and maintaining and defending the nest. Most ant species produce winged males and females during certain times of the year. These winged individuals, called "swarmers", leave the nest to mate and start new colonies. After mating, the males die and the females (queens) search for suitable locations to start new colonies. The queen sheds her wings and starts laying eggs that will hatch into the legless, grub-like larvae. The queen takes care of these larvae as they develop until finally they become pupae. Within a few weeks, adult worker ants emerge from these pupae and take over the job of tending the young. At this point, the queen's primary job becomes lay more eggs, although she may help feed and groom the larvae.
Some ant species, such as the Argentine ant, do not leave the nest to mate. With these species, new colonies form by "budding" – where one or more queens, along with some workers and young, break away from the main colony and move to a new location. Ant species that reproduce by budding usually do not have permanent nests. If conditions become unfavorable or if the nest is disturbed, the ants will simply move to a new location. This behavior may make it more difficult for you to find and eliminate a nest. Other ants that reproduce by budding include the odorous house ant and the pharaoh ant. In addition, some ant species have colonies that contain a single queen while other ant colonies may contain several queens. These ants may be more difficult to control because eliminating a single queen (or even a few queens) may not eliminate the colony and it may be easier for them to split up and form several colonies near each other.
How to get rid of ants
Ant control can be a nuisance as once one ventures inside your home in search of food, and scores something yummy, he'll send a message home to call in all the troops.
With a straw or teaspoon, take a few drops of water and drip into each container. You want to create a paste, so slowly add more liquid as needed. Stir together until it's like the consistency of maple syrup.
Seal the lids tightly, then pierce small holes in the lid and upper side, which are big enough for the ants to crawl into the container. Now that your traps are ready, place these in areas most affected by ant intrusion, such as behind the fridge or at the back of a draw. Leave for a few days to attract the ants but don't kill them, as you want to track the ant back to his colony. If you don't see where the ant goes, spray a little vinegar on the next ant seen and watch it reverse back to the colony.
It's the colony you really want to treat to remove the underlying issue. A chemical-free approach is to run a hose up to the colony and let it saturate the area so the ants get packing and move on.
Ant infestation prevention tips
Now that you've gotten rid of the ants, it's best to create a barrier to prevent an ant infestation from occuring again.
How to Get Rid of Ants in Your Home: The Complete Guide
There are over 10,000 species of ants on Earth, making them one of the most abundant creatures on the planet. Most of them prefer to live in forests and jungles, while others think your home is the best place for them.
While a few of these tiny creatures may not cause much harm, they reproduce rapidly and can make themselves at home quickly when conditions are ideal. Often, modern houses provide every luxury an ant could desire, including abundant food and shelter from the elements. Once they've settled in, their nesting habits can cause untold structural damage to your home.
Physical Barriers to Prevent Ants Invading Your Home
According to pest professionals, Pest Control, no structure is safe from pest invasions, so it's important to take steps against ants regardless of how secure you think your home is. Due to their tiny size and extraordinary climbing capabilities, ants can enter your home through tiny cracks and crevices.
Here's how to keep them out:
Seal any openings you notice with a silicone-based caulk.
Replace worn weather-stripping and repair loose mortar around your windows and basement foundation.
Trim back trees and shrubbery from your walls and windows.
Stack your firewood at least 20 feet away from your house.
These are some of the tried-and-tested remedies for getting rid of ants:
Spray powdered chalk near entry points
Wash your floors with a solution containing lemon juice
Squeeze a few drops of lemon juice near access points
Spritz a solution of water mixed with pepper around ant entryways
A solution of salt dissolved in water also helps get rid of ants
Wipe window sills and doorways with a 50/50 solution of water and vinegar
Peppermint essential oil mixed with water repels most household pests
Keep a small bowl of cinnamon and cloves in your kitchen