Protecting Your Home from Mold Damage
Mold can be difficult to see and even more challenging to get rid of. That is why it is a good idea to do all you can to stay on top of home maintenance to do everything possible to prevent mold damage from happening in your home. Here are some mold prevention tips for managing risk factors associated with the most common causes of mold.
Maintain plumbing in your home
Leaky or broken pipes are among the most common causes of mold in homes. The owner of a property should be aware of the age and condition of plumbing and stay on top of maintenance to prevent issues. An annual inspection by a licensed plumber is recommended, regardless of the age of your home. If your home is vacant during the summer months, especially during monsoons, it is a good idea to have someone check on the property to ensure you are not developing any issues.
Regularly inspect your home's roof
Roof leaks are another common culprit for moisture that causes mold. Damage may occur at any time due to severe weather or falling tree limbs, but homes are especially susceptible during monsoons. If you suspect any damage after a strong storm, arrange for inspections by a roofing service as quickly as possible. Identifying damage sooner rather than later may reduce the risk of a leak damaging the roof, insulation, or interior of a residence. It is also a good idea to have a simple inspection done once a year, preferably before storm season.
Address water damage quickly
Cleaning and restoring damage caused by water as quickly as possible is the most critical mold prevention measure as standing water is the ideal environment for mold growth. Mold growth can begin within just 24 to 48 hours after damage occurs, so it is essential to act quickly. Restoration specialists will extract water, clean, and dry the affected area to reduce the risk of secondary damage. While you might be able to sop up small water issues, larger flood and storm damage needs a pro to address
Keep in mind that there is no such thing as mold removal
Since microscopic mold spores exist naturally almost everywhere, indoors, and outdoors, removing all mold from a home or business is impossible, so do not believe a cleaning service that promises to remove all mold spores from your home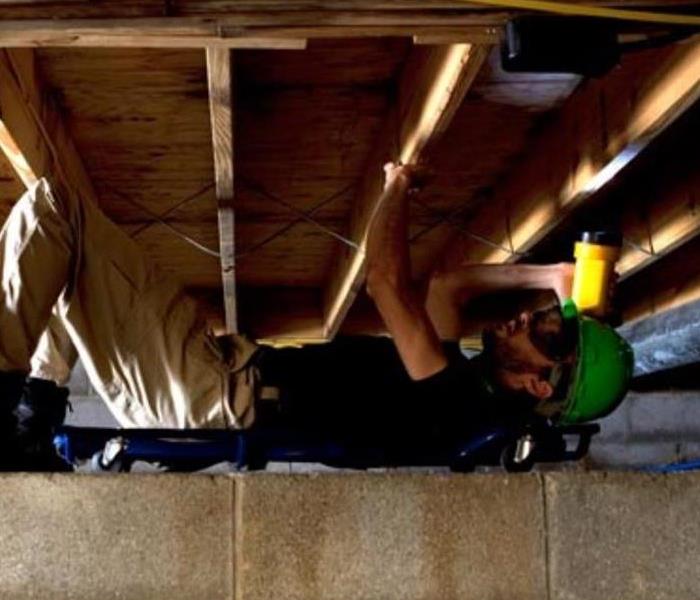 MOLD REMEDIATION
What is the mold?
Mold is very common in buildings. There are many different types of mold, and they can occur both indoors and outdoors. Mold grows in places with a lot of moisture, and everywhere that food is provided for them, such as your walls, carpet, floors, appliances, or furniture. Also in kitchens, bathrooms, laundry rooms, basements, and crawl spaces.
Types of mold
Rhizopus stolonifer is one of the more common types because it is found in tropical and subtropical regions.
Alternaria is another type of mold and it causes allergies in humans. Alternaria grows indoors and it also causes hay fever or hypersensitivity reactions that sometimes lead to asthma.
Aspergillus is found indoors, powdery food items, and building materials such as drywall and parquet
Penicillium can be found in a variety of places, including water-damaged structures as well as various foods.
Cladosporium is another type of mold that can grow in either warm or cool areas.
How to prevent it
Dry things thoroughly before storing them for a long time.
After showering always open the bathroom window
Use aspiration whenever you cook
Ventilating house every day by opening doors and windows
Ensure to keep moisture in control because it's level should be under 60 percent.
How to get rid of mold
If mold is spread in lesser areas than 10 sq. feet follow these steps:
Wear proper gear when cleaning.
Try a mixture of bleach and warm water.
Use vinegar.
Use a borax solution to kill and inhibit mold growth.
Try using baking soda, either in a paste or by itself.
Hire the best team to do it
If the mold covers 10 or more square feet you should call a professional team to deal with. Using professional mold removal services is the best way to get rid of mold because the process will be quick and efficient and the living environment in your home will be fresh again.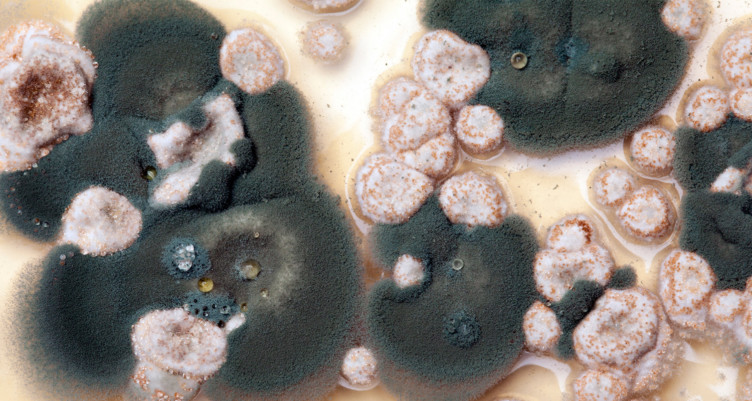 HOW TO DEAL WITH BLACK MOLD AND RECOVER FROM MOLD POISONING
TEST FOR BLACK MOLD AND MYCOTOXINS
Mold can grow in your home for a variety of reasons. If you notice any of these things
you may want to test for mold:
Musty smell
Water damage, soft/wet walls, bubbling paint
Leaking pipes
Discolored wood or walls
Unexplained fatigue
Trouble concentrating
Sudden mood swings
THE DIFFERENT BLACK MOLD TESTS
The first thing to do is verify that you have black mold. Symptoms of mold exposure are almost identical to other fatigue issues, like Lyme disease and chronic fatigue syndrome. And because mold can grow behind walls as a result of burst pipes or water damage, it's often hard to pinpoint where mold is in your home.
Otherwise, you have a few different options when it comes to testing for mold in your home:
Mold culture test. This test includes a petri dish with a swab. You expose the petri dish to either the air or, through the swab, a specific area in your home, and then you cover it and let it sit for 48 hours. If you get lots of growth in the petri dish (particularly black growth), you have a mold problem. If you get little to no growth, you're okay. Mold culture tests are fast and cheap (under $10, plus a little extra if you want to send the culture to a lab for analysis). A mold culture test is a good option if you suspect mold in your workplace or school. The downside is that the test won't tell you where mold is — only if mold is present. Here's a good mold culture test.
ERMI test. Environmental relative moldiness index (ERMI) testing will tell you with much more specificity what mold is in your home and how big of a problem it is. ERMI tests will run you $200-$300.
CLEAN BLACK MOLD AND GET RID OF IT FOR GOOD
Once you know how bad your mold problem is (both in your environment and in your body), it's time to get rid of the problem.
Clean mold yourself. If your mold problem is small and visible, like caulking around your bathtub, you can get rid of it yourself. You just want to make sure you use the right cleaning solution. Bleach won't kill mold entirely, and as the chlorine in bleach dissipates, the bleach turns into water, which creates the perfect environment for new mold to grow. Cleaning vinegar (stronger than kitchen vinegar) will kill mold, as will industrial chemicals like Moldex. Always wear a P100 respirator so you don't inhale mold spores while you clean. Goggles are a good idea too, and a full body suit for larger mold infestations.
Get rid of mold-contaminated items. Clothing, carpet, drapes, caulking, and paper goods like books and files will all absorb mold spores and can cause new mold growth. If they've been in an area with black mold, get rid of them, or in the case of cloth goods, get them professionally dry-cleaned. Throwing out belongings is a bummer, but it's better to be safe than to have to deal with a new mold problem all over again.
Professional mold remediation. If you have water damage or major mold contamination in hard-to-reach places, hiring a professional is your best bet. Mold remediation can be expensive, but professionals have the tools to find and eliminate all the mold in your entire home.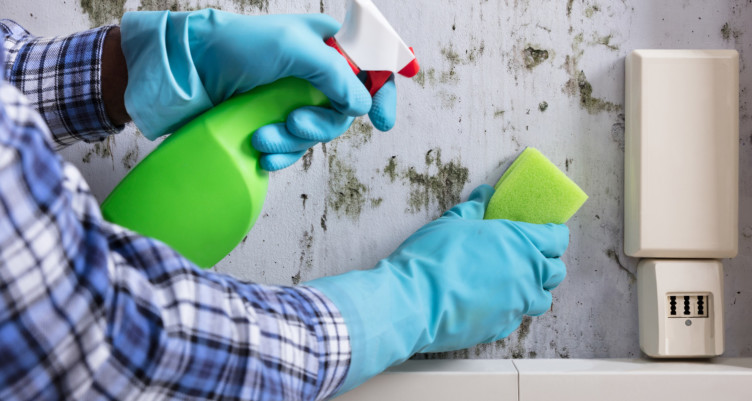 I Found My Dream Home And It Has Attic Mold, Now What? Don't Panic.
Mold spores are floating in the air all around us. They don't "grow" until they can attach themselves to a moist surface. Attic mold tends to go undetected because the attic's not a place a homeowner spends much time hanging around in – so when attic mold turns up on a home inspection, it's often a surprise to both buyer and seller.
If you find mold in the attic, first, take a breath. Mold in these areas isn't a significant factor in indoor air quality, and truthfully, most molds are relatively harmless to humans. Visible mold is ready to be remedied and doesn't require costly testing. What you don't want to do is leave mold untreated, because the materials the mold has attached to can cause issues with timber and framing integrity. In the attic, mold can degrade drywall, spread to the ceiling below, and even cause problems with your roof's life expectancy.
Causes of attic mold
Attic mold occurs in the attic primarily due to the accumulation of moisture from condensation in the gap your attic fills between your warm house and the cold air outside your roof. Improper ventilation in the attic is actually worse in newer homes.
Eradicating mold for good is a two-part process
Now that you know the mold in your dream home's attic is caused by a moisture issue, you might want to thank the mold. Why? Because it has helped you identify the more serious problem of water intrusion. Cleaning up the mold and making sure it doesn't have the right environment to grow will be the key to a healthy, structurally sound home.
First, clean it up
A professional mold removal company will do just that – remove the mold. According to the EPA, the purpose of mold remediation is to remove the mold to prevent human exposure and damage to building materials and furnishings. This means all visible mold staining and the root structure "hyphae" of the mold must be removed. Unfortunately, even dormant mold can act as an allergen. Encapsulation or painting over the mold is not a recognized method of mold remediation by the EPA.  Protective barriers or anti-microbial paints have a limited shelf life and fail over time if the moisture source has not been appropriately addressed.
What I Should Know Before Hiring Mold Removal Help
If you have mold in your home, it's essential that you take steps to remove it as soon as possible. Just like a bee sting is dangerous to some, mold can also be hazardous for specific individuals, and it isn't healthy for your property either.
Everyone knows that mold removal can be a daunting task to take on. It's hard to know where to start or how to get mold remediation done without spending a significant sum of money, right?
Should you test for mold?
In most cases, pre-testing will not be necessary. Mold is a pretty simple thing, generally speaking, and if you can see it, you don't need to waste time and money in having it tested. You need to focus on having it removed and bringing indoor air quality back to a "normal" condition.
Mold of any type has no place being in your home if you want your home to be a healthy indoor environment. Having pre-testing done to determine the species and type when it is always going to be recommended to be removed regardless of the type is, in our opinion, a waste of time and money. Now there are certain circumstances where we do believe testing is very beneficial
What can I expect to pay for mold remediation?
There is no one-size-fits-all answer to this question. How much you can expect to pay for mold remediation depends on how much removal is necessary, what needs to be removed, the size of the area needing to be contained off, and the difficulty of building the containment chamber. Essentially the more mold, the more work and the higher the price, although it is fair to say that many jobs can cost $1000 or more.