WHAT ATTRACTS SILVERFISH TO YOUR HOME?
Silverfish are fast-moving, nocturnal insects that have many of the same habits as cockroaches. Like cockroaches, silverfish can trigger allergic reactions in some people, but are primarily nuisance pests that don't bite and are not likely to spread pathogens that cause disease. However, they can contaminate food, damage paper goods and stain clothing, so you definitely don't want them hanging around your home
Moisture
Silverfish are sensitive to moisture and need high levels of humidity (above 75 percent) to survive, so they're attracted to humid, damp conditions. You can find often find silverfish in bathrooms, kitchens, laundry rooms, garages and cabinets. They can stray out of high humidity areas for a short period of time, but in general, they need higher humidity
Warm, dark places
Silverfish typically prefer dark hiding places with temperatures between 70–90 degrees
Carbohydrates and protein
Silverfish eat carbohydrates like flour, rolled oats and starches in cardboard boxes, paper, book bindings, glue and insulation. They also eat protein, such as dried beef and dead insects.
Reduce moisture
Repair any leaky pipes and faucets. Use a dehumidifier in damp areas to help reduce water condensation and humidity, and use a ventilation fan when you take a shower or are cooking. Keep gutters and downspouts free of debris, and grade your landscaping so water drains away from your house.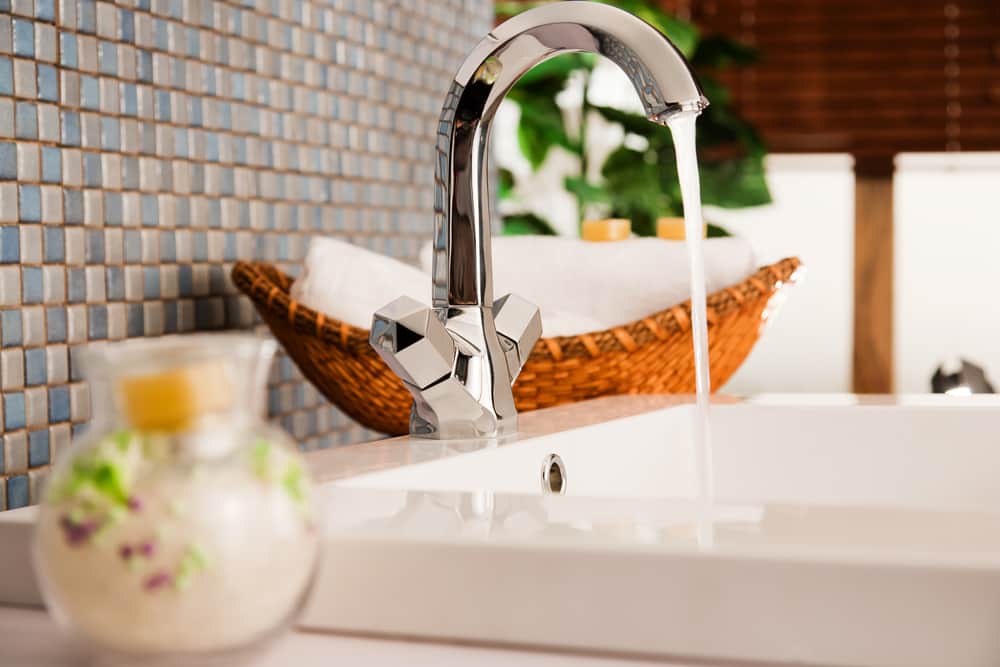 HOW TO GET RID OF SILVERFISH
Figuring out how to get rid of silverfish can be frustrating because they prefer scurrying around in the dark and are quick to hide when you turn on the lights. This guide explains ways to get rid of a silverfish infestation. You'll learn what's attracting them to your home, plus which essential oils and natural ingredients will get rid of them, and how to make traps to kill the ones you don't see.
WHAT ARE SILVERFISH?
Otherwise known as "fishmoths," silverfish are about 1/2 inch long with a scaly appearance, and range from pale silver (young ones) to a dark silver-blue (old ones). Although they don't live in aquariums, their bodies are shiny and wriggle, making them resemble fish quite a lot. Unlike fish, however, they have an exoskeleton along with two antennae on their heads and three prongs on their tails.
IF YOU'VE SEEN ONE, YOU'VE GOT MORE
Silverfish are rapid breeders. Females can lay between 2 and 20 eggs each day throughout the year, and their larvae reach the adult (breeding) stage in three to four months. In other words, thanks to their rapid life cycle, one male and one female silverfish can create a nasty infestation in a couple of weeks.
WHERE DO SILVERFISH LIVE?
Silverfish prefer dark, damp, moist areas — as do a variety of other household pests. Fortunately, this means that your efforts to get rid of them will also kill off many other bugs in your home, too.
Toss the trash. Toss old newspapers and magazines, transfer dry foods from cardboard boxes to canisters and get rid of paper bags or empty boxes you've let pile up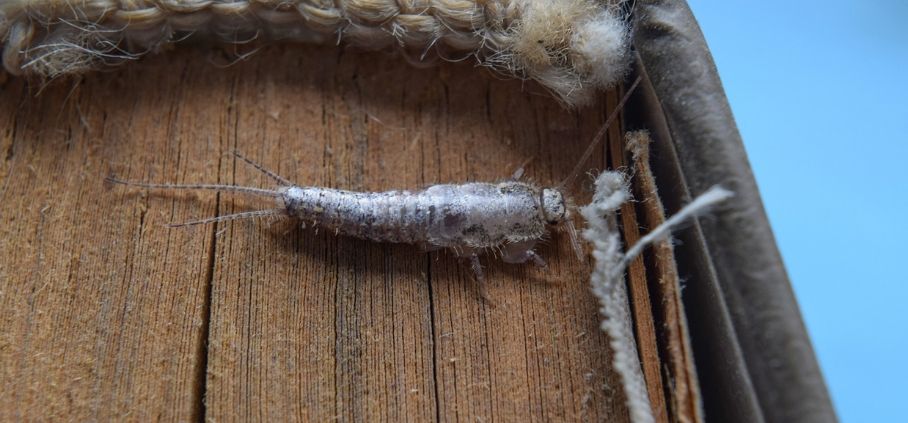 How to Deal With a Silverfish Infestation
Silverfish control is the only way to battle an ongoing silverfish infestation in your property. While if you've noticed the bug in your home means that you're probably too late to prevent a silverfish population from settling in your home.
Humid areas attract them, and if you haven't taken the proper measures to keep silverfish outside, then your home is prone to an infestation. Here's everything you need to know about the silverfish bug.
Silverfish have two long antennae on their head, followed with a body that has no obvious segmentation. While they have short and thick legs, silverfish bugs are capable of moving quite fast. The origins of their name are said to come from their rapid side-to-side movements, resembling a fish.
Reproduction
Silverfish reproduction habits differ from species to species, however, they all have one thing in common. All silverfish bugs go through love dances before mating. As for laying eggs, silverfish bugs either lay a few eggs every few days or lay eggs in clusters of two to 20 per cluster. The eggs are elliptical and measure around one millimetre in length.
Habitat of the silverfish bug
Silverfish bugs prefer dark and humid areas like basements, kitchens, bathrooms and even attics. They are also pretty tough and can live in any climate, although they won't thrive.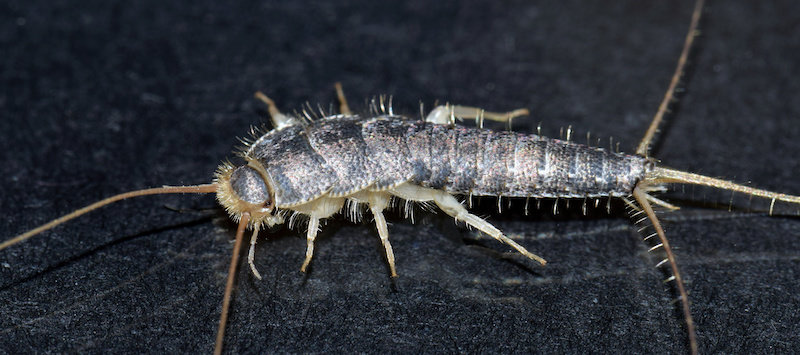 How To: Get Rid of Silverfish
Did you know that if you store them in a dark, damp place, your most valuable possessions—rare books, important papers, and designer clothes—are in danger of being eaten by a sly, silver marauder? Read on to learn how to rid your home of silverfish, ravenous pests with insatiable appetites.
Don't let the name fool you: Silverfish are nothing like the goldfish you nurtured as pets in your childhood bedroom. Whereas the latter swim placidly about their aquarium dwellings, the former lurk in the dark, moist corners of your home, munching on everything from paper goods and fabric to adhesives and mold. Named for their glassy, metallic appearance and slithering style of movement, silverfish are wingless, antennaed household pests whose ancestry stems back millions of years, predating even the dinosaurs. Given their lineage and history, it's safe to say that silverfish are a tenacious species. Eliminating these resilient critters from your home may not be quick and easy, but with patience and persistence, you can get rid of silverfish using the following tips and tricks
NATURAL MANAGEMENT
Looking for a nontoxic way to get rid of silverfish? You have at least a couple of options. Before running out to make any purchases, however, first experiment with the contents of your kitchen cabinets. Strongly scented herbs and spices have been known to repel silverfish, so try leaving out generous helpings of cinnamon sticks, bay leaves, or whole cloves, or strategically placing sachets filled with dried rosemary. If, despite your efforts, silverfish remain in your home, move on to one of the more aggressive treatments described below
BAIT-AND-TRAP METHOD
There are many pros to natural pest management. But if there's one downside, it's that you must take it on faith that your chosen treatment has been successful. You typically don't get the satisfaction of seeing bugs dead on the floor, so you never know for sure whether the issue has been resolved. If you're not squeamish—and if you're dealing with something short of a full-blown infestation—consider preparing one or a series of traps. That way, you can know for sure whether or not you're making strides
CHEMICAL REMOVAL
Look out for any signs indicating that your problem with silverfish has gone from minor to major. Inspect surfaces for crusty, cast-off skins and tiny, pepper-like feces. Likewise, search such things as wallpaper, boxes, newspaper bundles, and book bindings for small scrape marks and ragged edges—either or both of which suggest active feeding. Even yellowish stains on clothing or furniture upholstery can mean that silverfish are attacking your home at night, after having spent the daylight hours in dormancy. To match an aggressive infestation with an aggressive treatment, seek out a commercial pesticide formulated to treat silverfish
Home Pest Control: Silverfish Identification, Prevention, and Removal Tips
silverfish are small, wingless insects found throughout the U.S., often in residences. They are thought to be one of the oldest insects in existence. These bugs have been around for 400 million years, which is altogether 100 million years before the existence of dinosaurs. Although harmless to humans, silverfish can damage many starchy materials and items within the home. Learning how to prevent and get rid of silverfish is important information for all homeowners to know.
Silverfish infestations can be daunting because they reproduce quickly, can go for long periods without eating and come out only at night. Silverfish damage household items people don't often look at or think about, like old books stored in basements and seasonal sweaters tucked away in the garage. This means an infestation can get worse over many months before a homeowner will notice. When the infestation is discovered, it can be hard to tell if remediation efforts are working. Worst of all, many traditional pest control poisons have no effect on silverfish
Silverfish are slender and lithe. They have a wide head and abdomen plus a narrow, pointed back end. They're silvery gray, often shiny, and have six legs, which gives them a fragile and delicate appearance. Most people identify silverfish by their double antenna and three long appendages on the side of their bodies opposite their head. These three long appendages coming from the rear look like additional antennas
Silverfish can be found in many parts of the country and in different environments. However, silverfish are most commonly found in dark and damp locations. Inside a home, silverfish are found in basements, bathrooms, attics, garages and kitchens. Damp clothing and paper attract silverfish, so they're often found in homes with a lot of clutter, starchy materials, and/or books
Silverfish have some interesting adaptations, possibly because the species is so ancient. The following characteristics make silverfish different from many other species of insects.