THE TOP FIVE QUALITIES TO LOOK FOR WHEN HIRING A CAMERAMAN OR CREW ARE:
Once you know why you are producing a video – what your objective is – you can put together a script and storyboard with a director/producer to help you determine the best way to communicate your message. Bring the DP or cameraman in early on in the development process, so they know what you want and can discuss the available techniques.
1) Easy to work with/Flexible
Finding someone who is flexible and easy to work with is always nice to have, but it is especially true when selecting a camera operator. You want someone who can: put those being filmed at ease; be patient when working on set during unavoidable delays; and be understanding about reshooting if you're not getting what you had envisioned. You may be able to step in and do an "okay job" at other tasks, but shooting with a $50,000 camera and lens takes technical skills learned through school and years of practice.
2) Honed technical skills/Tech savvy
Operating a camera, maintaining composition and adjusting camera angles is no easy feat. Learning, understanding and honing the technical skills required to become an operator takes many years – and then several more to hone a specialty. For instance, to be good at news requires a cameraman who is quick thinking and fast on their feet.  Others may be good at sports production and following the ball, or an expert in EFP (Electronic Field Production) which requires precise lighting and composition.  Still others specialize in multi-cam for meetings and the like, and then some can do it all.  Camera operators also need to stay up-to-date on shooting techniques, lighting, new equipment, and a plethora of formats, frame rates and resolutions.
3) Physical stamina and strength
While keeping abreast of the latest news through industry associations, forums and journals is important for honing technical skills, the camera operator must also possess physical stamina, strength and manual dexterity. Shooting, although lots of fun, can also be very demanding – with long hours, challenging conditions, and the need to be on your feet all day.
4) Creativity: they have a "good eye"
Creativity is something that cannot be taught. A good camera operator will be able to spot a good opportunity and have an artistic eye for framing shots. Having the ability to look through the lens and picture how all of the elements come together – visual composition, perspective, lighting and movement – is crucial so that the images captured will reinforce your message and tell your story in the way you want it to and one that is consistent with your brand image.
5) Attention to detail
Producing professional video is an orchestrated event that requires all parties to work together. A good camera crew will carry out instructions accurately and with precision. This level of coordination between you, camera and audio people, lighting and the rest of the crew will multiply your productivity and benefit your communication objective. Getting "what you need" or "more than you need" in the field will streamline your editing process and provide additional content for the future.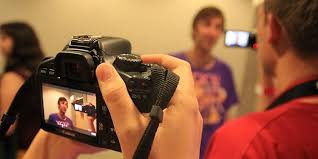 Camera Assistant: Job Description, Duties
Camera assistants setup equipment for the crew, whether in-studio or out in the field. The education is not set in stone as this is considered an entry-level job, but various postsecondary courses are available and useful to promote career advancement.
Essential Information
Camera assistants are members of technical teams that produce feature films, television programs, and Internet videos. These professionals prepare the equipment that camera operators use to shoot scenes or images. Being a camera assistant is a good way to improve work skills and gain practical experience in preparation for a career as a camera operator. Some postsecondary training is generally required, though a bachelor's degree is recommended for those who want to advance.
Workplace
Camera assistants work in the production of television news, entertainment features, documentaries, and corporate training films. As such, they are often employed by local and national television broadcast stations, cable networks, independent film productions, and major film studios. Thus, work may be conducted both in the field, within a studio, or both. Camera assistants may also be self-employed freelancers who on a contractual basis.
Education
Aspiring camera assistants may look to vocational schools and technical institutes, as well as community colleges and four-year universities for postsecondary courses and programs in cinematography or a related field. Programs may range from seminars and workshops in camera operations to certificate and associate's degrees in cinematography. Coursework typically covers film editing, lighting, and producing. Students in advanced courses may be required to shoot projects allowing them to hone their operating techniques.
Camera Assistant Job Duties
Camera assistants set up and position the camera equipment so that it is ready for the camera operator to use. This may include inspecting the equipment to verify that it is in good working order and loading the camera with film. Camera assistants may also position lighting equipment in preparation for shoots. Once the shoot is complete, assistants may then move equipment back to storage areas.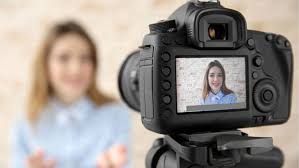 3 STEPS ON HOW TO BECOME A CAMERAMAN
To become a cameraman, of course you need passion for the film industry itself. But, in order to be successful in your movie production career as a cameraman, you'll need three key elements:
Career training as a cameraman from film school
A successfully completed internship as a cameraman
Effective cameraman job hunting skills (Career Development skills)
STEP 1: GRADUATE FROM FILM SCHOOL
You need to learn the behind-the-camera techniques used by film industry professionals. That's the only way you'll be able to compete in this job market and find careers in film. Pre-production, production and post-production skills are needed to make it as a professional cameraman in today's world. You also need to make sure that your film school is accredited so your credentials actually mean something once you graduate and start pursuing careers in film.
An accredited film and video school will teach you fundamentals of the technology behind cameras. Some of these concepts include lenses, frame rates, exposure, field depth and resolution. Your film school should teach you the science and art of visual storytelling and advanced editing techniques. You'll also learn various other filmmaking techniques, such as writing scripts, scheduling, budgets and pitching ideas to clients.
STEP TWO: COMPLETE A CAMERAMAN INTERNSHIP
Almost all good cameraman positions, even successful entrepreneurships, will require that you complete a cameraman internship. It's very beneficial to your field, and provides exposure to networking opportunities and the film industry itself. However, these can be hard to come by if you don't have connections in the news, film or TV industries.
Although finding a cameraman internship is the student's responsibility, some schools do provide assistance. A quality Digital Filmmaking and Video Production school will give its students access to campus job boards, social media pages, and Career Development advisors to assist with finding cameraman internships.
STEP THREE: FIND A CAMERAMAN JOB
Your career training at an accredited film and video school will give you the education you need to discover how to become a cameraman. Once you've completed your internship, you should have the on-the-job skills needed to be a cameraman for news, TV or movie productions.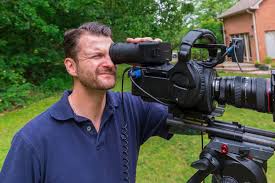 Pros & Cons of Being a Cameraman
Being a cameraman is exciting, but it does have its moments of tedium. It's a unique career choice for someone who is physical, focused and likes to be around action. Camera operators use digital equipment to capture live action for different forms of broadcasting. Having a background in photography or engineering is handy. College degrees are also helpful but not always required.
Pro: Close to the Action
Working as a cameraman can position you very close to the action. Camera operators are hired to capture live events for film or live broadcast. You could be called upon to film anything from a local flower show to a professional sports game. Cameramen see new and interesting things nearly every time they accept an assignment. You could be sitting across from a local celebrity one day and filming from the football sidelines the next. Operators are hired for jobs with conventions, news broadcasting and racing events. The field keeps you hopping and you'll likely not have much time for just standing around.
Con: Long Work Hours
Since a cameraman is called upon to record live events, he usually works a fair share of evenings, weekends and holidays. Assignments can last over a period of days and a camera operator is usually needed to film various activities during that short period of time. When camera operators are hired for special events like weddings or graduations, they'll work weekends too. It's also hard to escape working holidays as many action-oriented events, like important games, happen around those times of the year as well.
Edit in Camera
Make sure your footage will cut together.
In drama this isn't so critical because the Director will have a clear idea of what is needed and tell you all the specific shots he or she requires to create a particular sequence. In documentaries, especially stressful unpredictable situations that you have no control over, you are responsible for shooting sequences and getting all the necessary cutaway's (pick up shots) so that the sequences you are filming cut together seamlessly.
We call this 'editing in camera'. When filming in certain situations like war zones or riots the director relies on you, the camera operator, to get all the necessary material. In these situations everything happens so quickly that it's simply impossible for a Director to tell you what to shoot and how to shoot it. It's all down to you and it's your responsibility to make sure you have all the material to make a sequence work in the edit.