Do I really need a videographer for my wedding?
We all learn from mistakes, but you probably don't want to test that theory on your wedding day. After all, you want your wedding day to go off without a hitch. So, to ensure everything goes just as you envisioned it, we asked real brides to reveal their biggest wedding planning regret. From not speaking up to skimping on their cake budget, take a tip or two (or seven!) from these fellow ladies who have already walked down the aisle and said "I do."
Not Specifying Who's Invited on the RSVP Card
"Although it was written on the envelope, we had numerous people add on significant others we didn't even know existed and children that we've never met before. My parents wouldn't let us un-invite them because they thought this was rude."
Doing Without a Wedding Planner
"My biggest regret is not listening to my instincts to hire a wedding planner. Don't get me wrong, my wedding was beautiful, but being a perfectionist, there were minor details that were missing. For example, the music I walked down the aisle to wasn't cued on time. I would encourage brides to a least get a day-of planner who can make sure last minute things are handled properly."
Letting the Wedding Planner Do It All
"I hired a wedding planner, who was wonderful, but I just let her do most of it and didn't keep track and it ended up that certain things weren't the way I wanted them. I think it's crucial to hire a planner if you have time constraints. However, if the event side of your wedding matters to you, you also have to make sure that the lines of communication are open and that your hands are in that pie. If you don't get involved and check in on things that are important to you, you could end up disappointed."
Trying to Please Everyone Else
"I was so worried about doing things the way our parents wanted them done that I didn't speak up and really explain the things that were important to me. I ended up with a beautiful wedding that didn't feel authentic to me. Looking back, I wish our wedding reflected mine and my husband's personalities and not our parents'."
Not Hiring a Videographer
"We splurged on a top-notch photographer and opted not to hire a videographer for budget concerns. After the once in a lifetime night was over though, I was so sad to know that I wouldn't have the opportunity to relive any of those special moments again. I now recommend to everyone I know to make sure they somehow capture some of the event via video."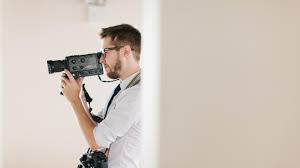 The Phenomenon of Wedding Haze – You're Going To Forget Your Wedding
Even though your wedding day is all about you, it is also about planning a large, complicated event for a huge amount of people. In many cases it can quickly become overwhelming as you get caught up in the hustle and bustle of the moment.
Your big day is full of hundreds of tiny decisions, setbacks, and new challenges that essentially have to be managed by the wedding planner, the maid of honor and best man, and the groom and bride-to-be. This means that there is an immense amount of pressure for everything to be running smoothly.
On your wedding day, you wear many hats, and sometimes the event planner hat ends up getting worn even more than the bride or groom hat. Because of this, many couples years down the line admit they never really got the chance to really sit down and appreciate all the beautiful moments that were occurring throughout the ceremony and reception.
This is when hiring a wedding videographer really comes in handy. Being able to cozy up with your new spouse on the living room couch and look over the wedding footage, beautifully edited together by professionals, allows you both to look back on the beautiful ceremony, embarrassing toasts, and happy memories with family and friends.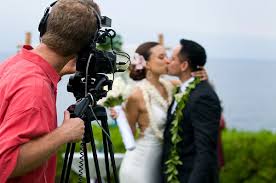 What You Should Know Before You Book Your Videographer
Find the right videographer to get that critically acclaimed, action-packed, tearjerker wedding video.
A videographer combines the skills of a documentary filmmaker with the eyes of a movie director, and when it comes to capturing the spirit or shaping the story of your wedding day and consider these things before you book.
Viewing Vibe
The first question you have to ask yourselves is how do you want the video to feel? Would you prefer it to be more cinematic—a movie telling the story of your wedding day—or more like a documentary? This choice between a cinematic and documentary style will be the filter through which you make all other decisions, from whom you hire to how the day is filmed and the footage edited. But don't feel like you have to commit to one or the other—many videographers these days use a combination of both styles in the finished product.
Camera Cues
Two types of cameras can be used when shooting video: DV (digital video) and analog (non-digital). Analog was standard until DV technology became more affordable—DV is now much more widely used, and the advantages are clear. Digital produces crisp, pristine images where the color and skin tone rendition is flawless. Better yet: The cameras are significantly smaller than analog, can be handheld and are twice as sensitive to light as analog, meaning that free-standing, blinding room lights are a thing of the past. (On-camera lights are still required to illuminate faces, however, and smaller, handheld off-camera lights are used when staging a specific shot—backlighting a veil, for example.)
Tag Team
You may see ads for companies that offer both photography and videography services. Besides a cohesive look to the final products, there are other advantages to this approach. For example, two people with different agendas may jockey for position or get in each other's way, whereas two people who work as a team can look out for each other and keep in touch about what's happening. And with one less vendor to worry about, it's also easier on you. Another plus is that still images taken by the photographer can quickly and easily be added to the video. You may even get a discount if you book both with the same company. If not, ask about getting free extra copies of your video for family and friends.
Sound Bites
The person who wears the wireless microphone varies. During a church ceremony, a wireless mic is usually attached to the groom behind his boutonniere—the bride's dress prohibits this—and if the church is large and full of echoes or there are readings, a mic on the podium is advised. What if your ceremony is outdoors? Everyone will have to have microphones, including the groom, readers and musicians. Luckily, some cameras can receive sounds from up to eight different mics at once.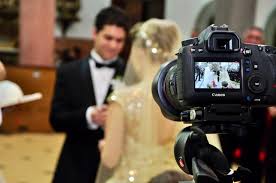 Reasons Not To Have A Wedding Videographer
The videographer uses annoying lights!
All videographers use light on their camera or set up room light at the wedding reception. Have you ever been to a wedding where the mood was set, candles were beautifully lit and all of a sudden…BAM! room lights go on and the ballroom is bright or there is a harsh light staring you in the face? With the technological advances and DSLR cameras such as Canon, Sony, Panasonic and Nikon the need for massive amounts of light is unnecessary. Don't get me wrong, there are times when you must have light to enhance the details of the film, but not to the extent that the guests have to wear sunglasses in the ballroom!!
SOLUTION: Find out how they use lighting throughout the day. If it doesn't match your expectations, see if the videographer can make adjustments to meet your needs. Let's say you love the videographers work, but don't like extra lighting. Keep and open and honest line of communication with your videographer for the entire wedding process.
I HATE those video interviews at the reception!!
There are companies that incorporate video interviews when creating a film and they are wonderful! You are hiring that company in order for them to weave the interviews into your video and that's awesome! I'm referring to the videographer who goes from one table to the next at the reception and asks people to "say something on the microphone". Unless you request interviews make sure the videographer doesn't do them. People are attending the reception to have a good time, relax and unwind. The last thing they want is for some videographer to stick a microphone in their faces. Many people are uncomfortable on camera and don't like to speak, not to mention the added pressure of having the entire table watching as you speak! Let's not get into the drunk friend who I'm sure will have some great things to say on camera.
SOLUTION: Make sure you speak to your videographer and are aware of the interviews before your wedding day. Ask him or her if they interview the guests. If they don't interview your friends and you want that included just express that as well.
The videographer is Always in the Way!!!
I've spoken to brides on many ocassions who were "on the fence" about a videographer because they attended a wedding and the videographer was, as they put it, "in the aisle for the entire ceremony" OR "a distraction all day". The videographer who stands in the middle of the aisle for the entire ceremony or stands on top of you (five feet away) during the toasts, first dance, ceremony, etc… Again, there are instances where this can happen, but, the videographer can always zoom in and not have to get in your face all the time.
SOLUTION: Talk to your videographer when you hire them and find out if their approach is the right for you. If you want a Ninja Cinematographer like me, then make sure you get that. Remember, there has to be a good fit between you and your videographer.
My Photographer doesn't like working with most videographers!!
There are some fantastic videographers who will take some alone time with the couple to create the film the bride and groom expect from them. That's great if it's planned before the wedding day. I'm referring to the videographer that starts to pose their shots of the bride all day and before the photographer has finished taking pictures!! Many photographers offer their own video services because they don't want to work with other videographers that are annoying. Many photographers I've worked with have told me that they've had bad experiences with videographers on the wedding day.
SOLUTION: Have the photographer and videographer speak before the wedding day so there is a clear understanding and expectations. Have them talk to each other or add yourself to the conversation, so everyone is prepared for the event